Today I've been uploading some new stuff to the Itunes I got off a friend a few weeks ago. Pretty much classic stuff: the Beatles, Zeppelin, Television, Sonic Youth, Dinosaur Jr.; along with some newer stuff like the Jenny Lewis & the Watson Twins wonderfulness that is "Rabbit Fur Coat" & The National's earlier work, before "Boxer" hit quietly huge.
1)
<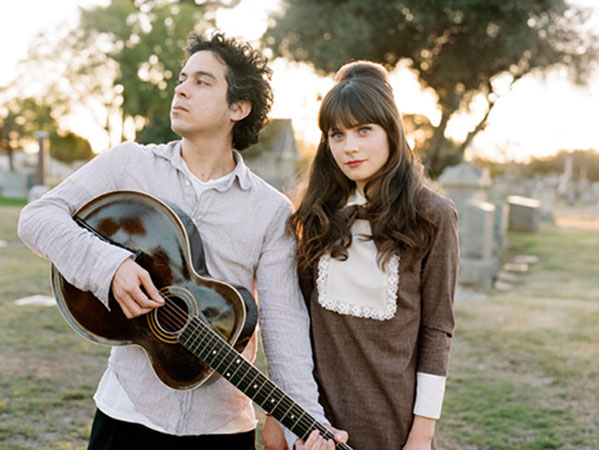 As far as concerts that are coming up, a few months down the road:
- Gracing the presence of Music City in the near future is
She and Him
, the project of M. Ward & Zooey Deschanel that I'm sure everyone is aware of [and possibly sick of hearing about]. They'll be at the Mercy Lounge on July 30, with tickets already on sale [more info on their myspace with links to ticket sales via the event info]. I'm not too sure how I feel about the project, to tell the truth. I've dug a track or two but don't know how the whole record will sit with me, whenever I get some time to hunt it down and give it a spin. So far I'm thinking I'd rather just hang out with Zooey around town and do some shopping at somewhere like
Local Honey
. You know that's the kinda place she'd dig. And I'd probably quote "Almost Famous" a few times, then I'd reference J.D. Salinger's "Franny and Zooey" some. And that is why I won't be shopping with Zooey Deschanel...
[At Grimey's, oh snap. taken by Mike Withers]
-
Dr. Dog
is playing at
3rd & Lindsley
on September 7th. There isn't anything on the venue's site yet, only the even listed on the band's myspace, along with the note it is an all ages show and pricing it at $10. Once these tickets go on sale, snatch them up. I know it'll go
fast
.
If you can't wait to check out the Dr. Dog live show experience, they will be performing at
Forecastle Festival
in Lousiville, KY, July 27th [alongside one of my favorites,
Catfish Haven!
] The Forecastle site says tickets for that Sunday only are $18/$21, along with Murfreesboro's
All We Seabees
having a set that somewhat overlaps Catfish. Looks like something that would be worth checking out...
[Thx to HT for the Nashville heads up!]
2) Now for those tunes to check out...
[taken by Laura Goodwin]


-Kyle Andrews
writes awesome pop songs. I first ran into his tunes on the mixed cd set that changed my listening ears, 3 years ago. At that point he had moved away from Nashville, leaving me as though I had missed out on my good opportunity to see him play live. As fate would have it, he moved back to town probably around a year ago. This guy plays around town quite a bit, two shows coming up soon even [one June 6th and the other July 26th, some touring inbetween] and I have
still
yet to see his live show! I am purposing that come this fall the issue of somehow always missing the shows is gone.
You can find this fella also on facebook, where he has up a few new tracks for your listening pleasure, both quite enjoyable. Basically, if you want to know much I dig his guy's work, my top songs on itunes says it all: the track "Sushi" tops out all time listens at 37, followed by the next song having 30. So yeah, I dig the tunes.



- I'm not sure why I'm jumping onto what these folks are putting out there, but I'm on it- Good Night & Good Morning travel the same circles as some of the folks I'm diggin these days from the midwest, but they have a twist: a harp. So far they're mainly sticking to the midwest/north for shows but I've already let them know that Murfreesboro would be a great place to see them bust it out at a house show [think Baby Teeth Thieves with the quiter vocals similar to Dustin Gamble].


-----
As I posted the other day, the new Okkervil River record comes out September 9th and the tour dates for immediately after the release have been posted. Imagine how much shock I was [not] in when I saw Nashville not on the list, but I think a trip to Athens, GA might be in the cards to see the boys live again. If not, it'll probably be February [if I was guessing] that they come to Music City again. If you'd be interested in a road trip, let me know between now and October. The more the merrier.
----